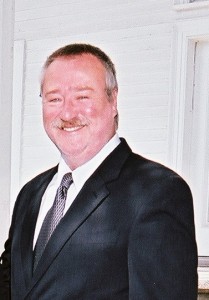 The Reverend Kenneth B. Kobza  has been the stabilizing factor of this congregation for the past 26 years. During his tenure  he has become the longest term Pastor in the 241 year history of our congregation.
Pastor Ken, as he is known within the congregation, grew up in Northern New Jersey in the Reformed tradition. He acquired a BA in Philosophy from Central College, Iowa (1979) and his Masters of Divinity from New Brunswick Theological Seminary in New Jersey (1983), having also been granted a scholarship through the World Alliance of Reformed Churches to study overseas in Northern Ireland (1980).  From 1983 – 1985 he served the Reformed Church as a Missionary Associate in Shimonoseki, Japan. He became the Pastor of New Hurley in March, 1986. In addition, he has served as a "Stated Clerk" for the greater Reformed Church for the past 25 years. Pastor Ken is a world  traveler, having visited over 14 countries, and brings a wide breath of experience to the mission of our congregation.
During his time as Pastor, he has become involved in the Tres Dias ecumenical Spiritual renewal movement and has served as a Spiritual Director for over 10 years. He was also chosen to help establish a Tres Dias movement in Kiev, Ukraine (2001, 2003).